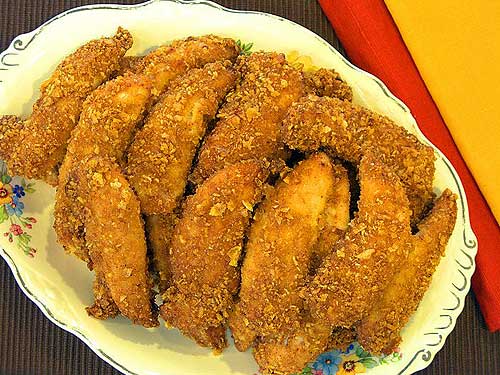 This is a quick, easy way to fix chicken, and oh so tasty, too. This is my mom's recipe, and is very versatile. You can add whatever spices you would like, and can even substitute bread crumbs for the corn flakes – whatever makes your taste buds happy.
Ingredients:
2 ½ pounds chicken strips (or boneless skinless chicken breasts cut into strips)
1 ½ cups corn flake crumbs
½ cup parmesan cheese
¼ teaspoon black pepper
1 teaspoon garlic salt
1 ¼ sticks butter
Preheat oven to 400 degrees.
Pour corn flakes into a large plastic zipper bag and close the bag.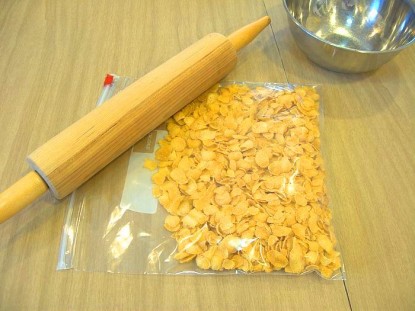 Use a rolling pin to turn the flakes into crumbs.
This is also a good time take some stress out, so really crush them into crumbs. Ahhh, don't you feel better now? Keep crushing corn flakes until you have 1 ½ cups of crumbs. Then, put the crumbs in a mixing bowl.
Add the parmesan cheese.
Add the pepper and the garlic salt (or just plain salt – whatever you'd like). You could also try paprika or seasoned salt.
Mix the dry ingredients together then melt the butter in a microwave safe bowl.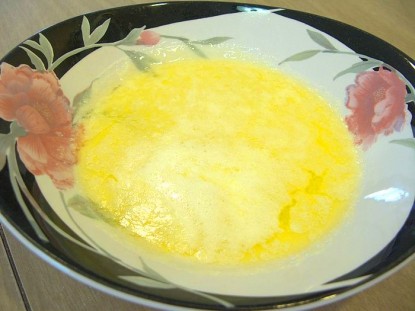 Line a cookie sheet with aluminum foil. Now we're ready for the assembly line.
(Thank you to Henry Ford!)
Take each chicken strip and dip it in butter.
Roll each strip in the cornflake mixture.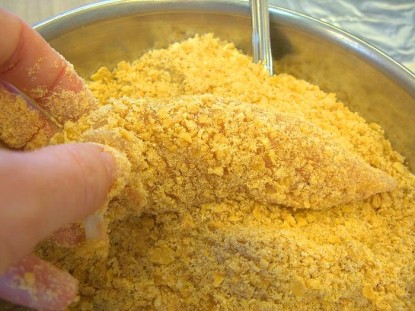 Place the strips in the pan. You can put them close to each other, but make sure to leave a little space in between.
When you're done, put the pan in the oven, and bake for 25 minutes. Remove the strips from the cookie sheet and arrange on a platter or in a serving bowl.
Use your favorite dipping sauce. Ours is Ranch dressing.
Take a close look……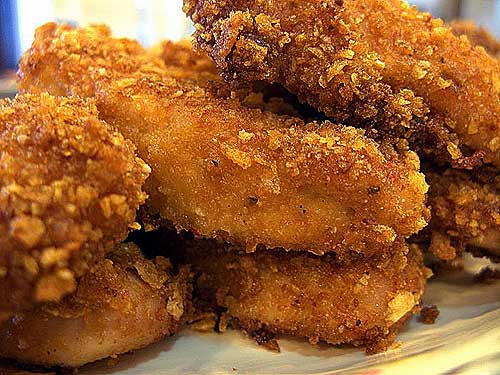 Mmmm…… Just like my Mom makes.
Get the handy printable recipe and save it to your recipe box:
Crispy Parmesan Cornflake Chicken Strips