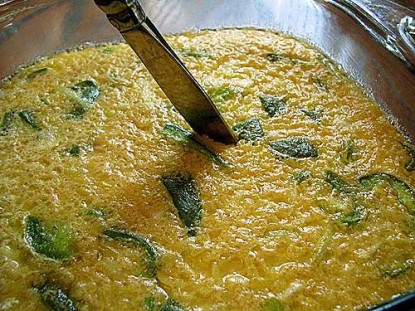 Difficulty: Easy
Servings: 4-6
Prep Time:
15 minutes
Cook Time:
40 minutes
Ingredients
3 eggs
2 cups corn, cut off the cob
1/4 cup chopped onions
1/4 cup chopped green (or red) sweet/mild peppers
1/2 cup all-purpose flour
1/2 teaspoon salt
1/2 teaspoon paprika
1/4 teaspoon ground cayenne pepper
1/4 cup butter, melted
1 cup half-and-half
Directions
Whisk eggs in a medium-size bowl. Mix in corn, onion, and peppers with a spoon. Add flour, salt, paprika, and cayenne pepper; stir well. Add melted butter and half-and-half. Spoon into a small, buttered casserole dish. Place the casserole dish in a larger pan filled with about 1/2 inch of water. Put into a 350-degree preheated oven. Bake approximately 40 minutes or until a knife inserted in the center comes out clean.
Categories: Entertaining, Holiday, Side Dishes, Vegetables
Submitted by: suzanne-mcminn on November 19, 2010