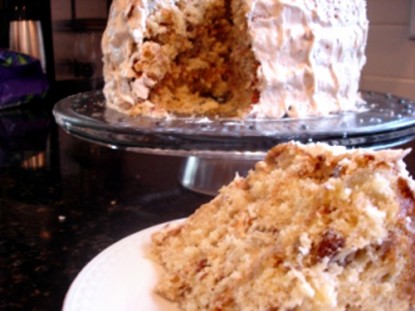 The Southern Living Cookbook
. This is Southern Living's most requested recipe. It's not just their most requested dessert recipe. It's the most requested recipe overall. This cake is a BIG cake. My cake platter dome wouldn't even fit over it. It's moist and delicious and everything you want a special occasion cake to be. Plus, it's easy! You don't mix it. You stir it by hand. And you frost it with Cream Cheese frosting. This cake has a whole bunch going for it. I made a mistake and left the cinnamon out of the cake batter so I added it to the frosting, instead. Cinnamon Pecan Cream Cheese frosting isn't half bad. I might be on to something.
Difficulty: Intermediate
Servings: 12 to 15
Prep Time:
10 minutes
Cook Time:
25 to 30 minutes
Ingredients
For Cake:
3 cups all-purpose flour
1 teaspoon baking soda
1 teaspoon salt
2 cups sugar
1 teaspoon ground cinnamon (or add it to the frosting, or both!)
3 eggs, beaten
1 cup vegetable oil (I used canola oil)
1 1/2 teaspoons vanilla extract
1 (8 ounce) can crushed pineapple, undrained
1 cup chopped pecans
2 cups chopped bananas
For Icing:
8 ounces softened cream cheese
1/2 cup butter, softened
1 pound powdered sugar
1 teaspoon vanilla extract
1 teaspoon cinnamon, optional
Directions
For Cake:
Combine first 5 ingredients in a large bowl.
Add eggs and oil and stir until dry ingredients are moistened. Do not beat, just stir.
Add chopped bananas, pineapple, pecans and vanilla to batter. I used 2 1/2 bananas to get 2 cups. Stir well.
Pour into three well-greased and floured cake pans. Bake at 350 degrees for 25 to 30 minutes or until a tooth pick inserted into the cake comes out clean.
When done, cool in pans for 10 minutes and then turn out the cakes to a cooling rack. Cool completely before frosting.
For Icing:
Cream softened cream cheese and butter. Gradually add powdered sugar and beat until fluffy. Add vanilla, cinnamon and pecans and mix well. Spread between layers, on top of cake and on the sides.
Categories: Cakes, Frostings & Icings, Special Occasions
Tags: Southern
Submitted by: syrupandbiscuits on July 5, 2011