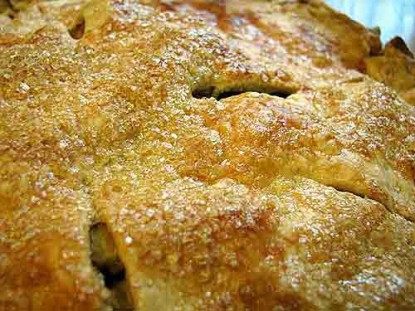 Difficulty: Easy
Servings: 8
Prep Time:
30 minutes
Cook Time:
20-25 minutes
Ingredients
pie pastry for double crust
9 cups (3 pounds) sliced apples
1 tablespoon lemon juice
1 cup dark brown sugar
3 tablespoons all-purpose flour
1 teaspoon cinnamon
1/2 teaspoon nutmeg
Directions
Peel, core, and slice apples. Place in a large bowl. After the first several cups of sliced apples are in the bowl, add the tablespoon of lemon juice and stir it up. This will keep the apples from browning while you're slicing the rest. Once all the apples are in the bowl, add the brown sugar, flour, cinnamon, and nutmeg. Stir well to blend. Line a deep dish pie plate with the pastry. Fill it up. Pile it on. Lay it on thick. Put the top crust on, crimping edges. Cut slits to vent.
Brush the top with a little bit of egg white if you like and sprinkle with sugar. Bake on the lowest oven rack–20 minutes at 425-degrees, then another 20-25 minutes at 375-degrees.
Submitted by: suzanne-mcminn on April 4, 2011