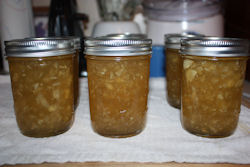 Difficulty: Easy
Servings: 8 half pint jars
Prep Time:
20 minutes
Cook Time:
40 minutes
Ingredients
1 1/2 cups of water
5 cups of finely chopped apples (you can put it in the food processor)
1 tbls of butter
1 box of pectin (or liquid pouch)
2 tbls of lemon juice
5 1/2 cups of sugar
Directions
Prepare your jars for canning…
Pour the water into a heavy saucepan, and add the butter, apples, pectin and lemon juice. Bring to a full rolling boil on high heat, stirring constantly. Quickly add the sugar and return to a full rolling boil that cannot be stirred down; then boil, stirring, for 2 minute. (If using a 2-ounce box of pectin, boil for 4 minutes.)
Remove from heat and skim off any foam.
If preparing jam for the pantry, ladle into one hot jar at a time, leaving 1/4-inch headspace. Wipe jar rims with a clean, damp cloth. Attach lid. Fill and close remaining jars. Process in a boiling water bath for 10 minutes.
If preparing for freezer or refrigerator, ladle the jam into clean jars (or freezer containers, leaving 1/2-inch headspace); apply lids. Let stand for 12 to 24 hours at room temperature; freeze or refrigerate.
Categories: Boiling Water Bath, BWB Fruits, BWB Jams, Jellies, Butters & Preserves, Canning, Freezing, Preserving
Submitted by: ebyjo on July 7, 2010