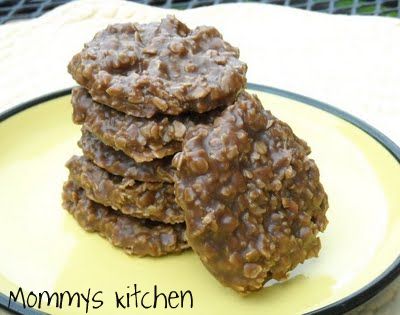 Difficulty: Easy
Cook Time:
1 1/2 - 2 minutes
Ingredients
2 – cups granulated sugar
3 – tablespoons unsweetened cocoa powder
1/2 – cup butter
1/2 – cup evaporated milk
1/2 – tsp salt
3 – cups quick or old fashioned oats
1/2 – cup creamy peanut butter
1 – tsp vanilla extract
Directions
In a medium sized sauce pan over medium high heat, add butter, sugar, cocoa powder, milk and salt. Stir until butter is melted and ingredients are incorporated. Bring to a boil and boil for 1 1/2 -2 minutes (not any longer), stirring constantly.
Remove from heat and stir in peanut butter until completely melted. Add vanilla and oatmeal; mix well. Now working quickly before it cools to much, drop by tablespoon full onto waxed paper. Let cool completely on waxed paper. Remove the cookies when they have set up.
Categories: Cookies & Bars, Desserts, Kid-Friendly
Tags: no-bake
Submitted by: mommyskitchen on August 16, 2010