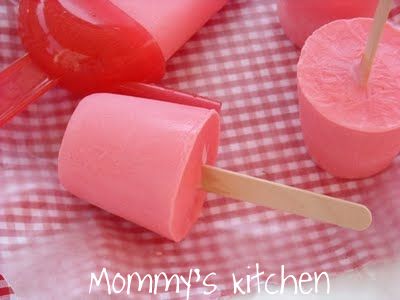 Difficulty: Easy
Servings: 12
Prep Time:
10
Cook Time:
10 stove top cooking
Ingredients
1  (4 serving size) package strawberry flavored Jell-O gelatin
1 cup water
1/2 cup sugar
3 cups plain yogurt
pureed strawberries
Popsicle molds, small cups & Popsicle sticks
Directions
In a medium sized pot, bring water to a boil. Stir in the flavored gelatin. Stir until dissolved then add sugar. Keep stirring until all the gelatin and sugar is dissolved. This may take about 3-5 minutes. Add yogurt a cup at a time and using a wire whisk mix until smooth adding the additional 2 cups of plain yogurt. If using pureed fruit add it now and mix well. Pour into Popsicle mold or cups and freeze for a minimum of 6 hours or overnight.
I did both molds and cups. I put all the little cups in a 9×13 inch glass plan so it was easier to place in the freezer. You can add foil over the whole dish then poke holes to add the sticks into the cups. Or it is easier to get the sticks to stand up if you let the yogurt pops freeze for about 30 minutes. Then insert the sticks, that way the yogurt has time to freeze and thicken up a bit. Continue to freeze for 6 hours or overnight.
You can experiment with different flavors of Jell-O and fresh pureed fruit.
*If you are concerned about the sugar in the recipe and want a sugar-free version, you can use sugar free Jell-O and omit the sugar. You might have to switch to flavored yogurt instead of plain to make up for the sweetness. Or you can just use the plain yogurt, regular Jell-O and pureed fresh strawberries. This recipe can be adapted for any flavor. Peach Jell-O with fresh peaches would be great!
Categories: Frozen, Jell-O, Kid-Friendly, Other Dairy
Tags: Summer
Submitted by: mommyskitchen on August 16, 2010