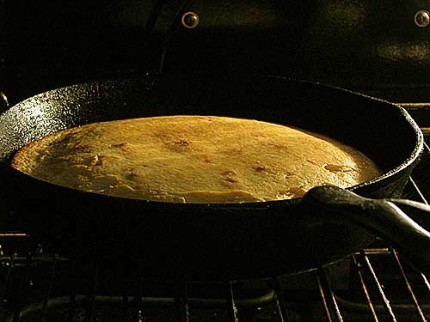 Difficulty: Easy
Servings: Mix will make 4 pans of cornbread
Ingredients
4 cups flour
4 cups cornmeal
1 cup sugar (or less if you don't plan to make sweet cornbread)
4 tablespoons baking powder
2 teaspoons salt
1 cup butter (cut up)
Directions
Mix well. Store in the freezer in a large plastic freezer bag.
To Use:
2-1/4 cups mix
2 eggs
1 cup of milk or buttermilk
Using a large iron skillet, fry two slices of bacon. Remove the bacon and drain to use for another purpose or crumble and stir into your cornbread mixture before baking.
In a mixing bowl, stir everything together. Don't over stir. (Sometimes more or less milk is required, depending on slight variations in measuring dry ingredients–add what you need to get a nice, thick almost pourable-but-not consistency.)
Variations: More sugar, if you want really sweet cornbread, or less sugar if you plan to add vegetables to the mixture–you can add a cup or so of diced, sauteed onions, peppers, anything that appeals to you. Add shredded cheese, or corn, or even chopped pecans. (I like it with pecans especially with a sweet, sweet cornbread mixture.)
Pour cornbread mixture into the iron skillet you used to cook the bacon in to season it with the bacon drippings. (First tip the pan all the way around, spreading the bacon drippings to grease the sides of the skillet.)
Bake in a 425-oven for 20-25 minutes.
*You can skip the bacon step, if preferred. You can still bake it in a greased cast-iron skillet or in a greased 8 x 8 square baking dish or a pie pan.
Each batch of mix is enough for 4 pans of cornbread.
Categories: Breads, Ingredients & Mixes, Vegetable Breads
Submitted by: suzanne-mcminn on June 10, 2010