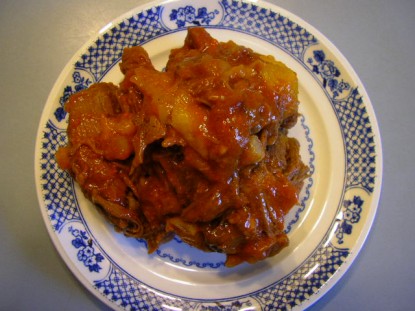 Difficulty: Easy
Servings: 8-10
Prep Time:
20 min. after crock pot
Cook Time:
crock pot time plus 30 min.
Ingredients
Beef Brisket (4lbs)
1 cup real ketchup
1/2 cup cider vinegar
1/2 cup water
3 heaping teaspoons brown sugar(light or dark)
1/2-1 teaspoon dry mustard (to taste)
1/4 teaspoon salt
1/8 teaspoon pepper
1 medium onion, chopped
2 large peaches, peeled, pitted, and chopped
olive oil
*You could probably add a small splash of Worcestershire if you wish , but I have to cook for gluten free family members and I have none that is GF.
Directions
Slow cook the brisket in a crock pot until it is "fall apart" tender. Let it cool and pull with a fork so that it is stringy.
Sauté chopped onion in olive oil over medium until it begins to get translucent. Toss in the chopped peach and stir for a minute or two. Remove from heat.
Mix ketchup, vinegar, water, brown sugar, dry mustard, salt, and pepper in a bowl. Add to the onion/peaches. Place back on heat and stir until warm. Add to the meat.
Categories: Beef, Gluten-Free, Sandwiches
Submitted by: patrice on July 25, 2010