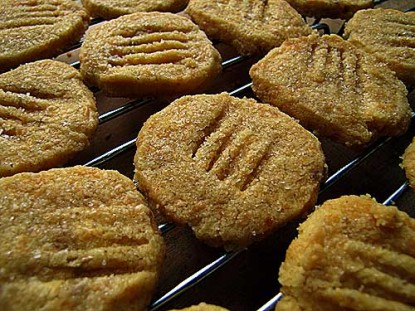 Difficulty: Easy
Servings: Makes about 8 dozen
Prep Time:
10 - 15 mins not including chilling time
Cook Time:
Bake at 325 deg 12 to 15 mins until just golden
Ingredients
3/4 cup soft butter*
2 cups grated sharp cheddar cheese (1/2 lb)
2 cups sifted flour
1 teaspoon salt
1 teaspoon Worcestershire sauce
dash of cayenne pepper
Directions
Cream cheese and butter together. Add flour, salt, other seasonings, and mix until dough is smooth and well blended. Shape dough into rolls about one inch in diameter. Chill dough at least two hours. Slice dough into thin rounds. Place on ungreased cookie sheets at least one inch apart. Bake at 325-degrees for 12-15 minutes. Makes about 8 dozen.
*Admin edit: See notes in comments.
Categories: Appetizers & Snacks, Cookies & Bars, Desserts, Vegetarian
Submitted by: rephiddy on May 4, 2010