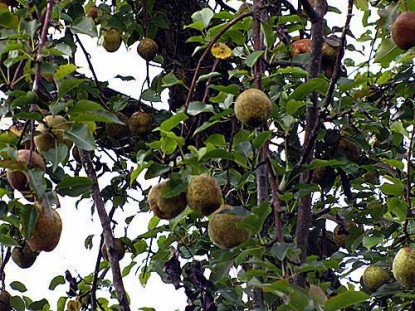 Difficulty: Easy
Servings: varies
Prep Time:
45 minutes
Cook Time:
10 minutes BWB
Ingredients
PER QUART PEAR SAUCE:
1 1/2 to 2 cups sugar*
1/2 cup coconut
1/2 cup raisins
1 teaspoon cinnamon
1 teaspoon allspice
Directions
*Adjust amount of sugar to suit your tastes. Start with the lower amount and see how you like it. I use 1 3/4 cups.
Combine the pear sauce, sugar, coconut, raisins, cinnamon, and allspice in the pot and mix well. Simmer, stirring occasionally, till hot. Process in a boiling water bath 10 minutes.
If simmered down, it could also be made into a pear butter.
Categories: Boiling Water Bath, BWB Jams, Jellies, Butters & Preserves, BWB Sauces, Canning, Preserving
Submitted by: suzanne-mcminn on October 10, 2012