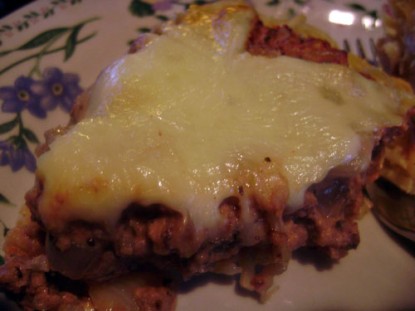 Difficulty: Easy
Servings: 6-8 slices depending how wide you cut the slices
Cook Time:
30 minutes
Ingredients
8 ounces cooked spaghetti, drained
1/2 cup grated parmesan cheese
1 egg, lightly beaten
1 – 1 1/2 lbs hamburger cooked and drained of visible fat
1 medium onion chopped
2 cups spaghetti sauce
1 package   ( 8 ounces ) shredded mozzarella cheese
Directions
While spaghetti is cooking……brown hamburger and onion together till redness is gone, crumbling it up as it cooks.
Spray a 9-inch pie plate with oil.
Toss cooked & drained spaghetti, parmesan cheese and egg together. Place in pie plate and push across bottom and up sides forming a pie crust shape effect.
Mix the hamburger mixture in with the sauce and place in spaghetti crust…sprinkle the mozzarella on top.
Bake at 350 degrees for 30 minutes or until hot & bubbly.
Can pour more sauce mixture over slice on plate.
Categories: Beef, Casserole, Main Dish, Pasta
Submitted by: twoturkey on May 4, 2010