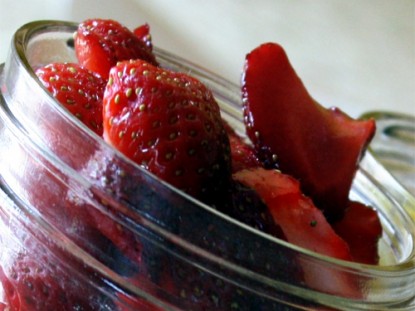 I walk in after my shower and she has the chair pushed up against the dresser. She's got one hand splayed and in the other she is lackadaisically wielding a dripping red brush. Looking up from a sea of nail polish, she looks somewhat puzzled at the crazed look in my eyes and simply informs me that she is just getting ready for the "ballerina show." It's twenty minutes into the baby's one hour morning nap and my list of housework just went up in smoke. The wet clothes will not get on the line, the dishwasher will not get run, and the world will probably end. Deep breath, mama….Keep calm and carry on.
Last week I went to a jazz concert in The Big City with my sister. A much overdue night out and it was everything good music should be; the balance between soul and spunk, equal measures of satisfaction and longing. But, really, truly every day of my life is filled up with the melodies that my daughter makes. And even when I find myself in my bathrobe and towel turban, holding a four year old princess-in-training scrubbing at stained hands with acetone dampened Q-Tips, I know in my heart of hearts that it is these seemingly harried snippets of time that sing life's truest and fullest songs.
As summers go on and I seem to get more involved in food preservation with each passing harvest, I find I face this dilemma between putting away and enjoying each fruit's season in its moment. I can get so wrapped up in getting things checked off my to-freeze or to-can list that I don't take the time to indulge now. But when she shoves a handful of fresh strawberries into her mouth as fast as she can, she's teaching me. I'm learning that you don't teach kids half as much as they teach you. This year I'm committing to carpe diem. While I plug away at my most ambitious preserving season yet, I'm gonna try to do sweet and simple things not with the leftovers, but the first fruits.
After our first trip together to the strawberry patch, I was dreaming of strawberry sorbet and she was begging for strawberry lemonade. So, I struck up a little compromise–Strawberry Lemonade Sorbet. It's so easy, so perfect for a hot summer day, and can probably be adapted for whatever is in season where you are.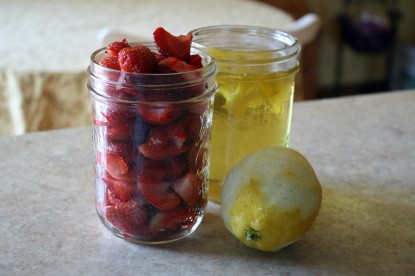 All you need is a pint of chopped strawberries (or your favorite fruit), a pint of lemon simple syrup (I brought one cup of water and one cup of sugar to a boil with the zest of one lemon, removed from heat, and let it steep for about a half an hour), and give or take the juice of one lemon.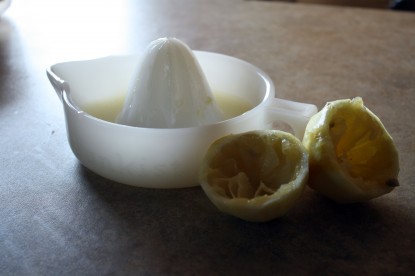 All I did was puree the strawberries in a large batter bowl, mix in cooled lemon simple syrup, and the squeezed lemon juice and let it chill in the fridge until quite cold (I let mine sit for about 4 hours).
You'll want to taste for lemony or sugary enoughness, depending on your taste. I added an extra bit of lemon juice to mine. I then dumped the chilled liquid into the chilled ice cream bowl of my KitchenAid and let the whole thing dash around for about 25 minutes (you should follow your ice cream maker's instructions for sorbet making). You can freeze it at this point, but I always like it best straight from the bowl.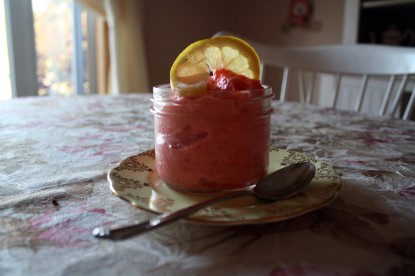 I like to dish it up in a half-pint mason jar and put it on a pretty little vintage plate with a lemon on top. A quarter-pint jar would be perfect for kids. And the best part of using a mason jar is that if you can't finish now, screw the lid on, and put it in the freezer for later.
A sweet and simple treat to follow a day in the sun seizing the season and seizing the moment.


Get the handy print page and save this to your recipe box here:
Strawberry Lemonade Sorbet.
Do you have a recipe post or kitchen-related story to share on the Farm Bell blog?
See Farm Bell Blog Submissions for information, the latest blog contributor giveaway, and to submit a post.

Want to subscribe to the Farm Bell blog? Go here.
Check out the latest blog contributor giveaway!