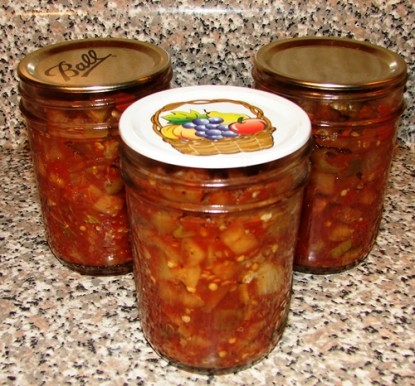 Difficulty: Easy
Servings: Makes 5 Cups (1.25 L)
Ingredients
1 small eggplant, cut into 1/4-inch (5 mm) cubes
1 1/2 tbsp pickling salt (20 mL)
2 large tomatoes, peeled and chopped
1 medium sweet red pepper, diced
1 cup diced zucchini (250 mL)
1/2 chopped onion (125 mL)
3 large cloves garlic, chopped
1/4 cup chopped stuffed olives (50 mL)
1 tbsp capers, rinsed (15 mL)
1 bay leaf
1 tsp fresh thyme (5 mL) or 1/4 tsp (1 mL) dried
1/4 tsp each: salt and freshly ground pepper (1 mL)
1/3 cup red wine vinegar (75 mL)
2 tsp granulated sugar (10 mL)
2 tsp olive oil (10 mL)
2 tbsp tomato paste (25 mL)
Directions
Place eggplant in a non-reactive bowl. Sprinkle with salt and stir well. Let stand for 2 hours. Drain eggplant in a sieve and rinse twice, draining thoroughly; press out excess moisture.
Place eggplant, tomatoes, red pepper, zucchini, onion, garlic, olives, capers, bay leaf, thyme, salt and pepper in a large roasting pan.
Heat vinegar, sugar, and oil in a microwavable container until hot, about 1 minute, stir into vegetables.
Bake in a 350 degree F (18OC) oven for about 1 1/2 hours (1 hour for a convection oven), or until vegetables are softened and liquid has evaporated, stirring every 20 minutes. Remove pan from oven, discard bay leaf and stir in tomato paste.
Remove hot jars from canner and spoon relish into jars to within 1/2 inch (1 cm) of rim (headspace).
Process 15 minutes in a boiling water bath for half-pint (250 mL) jars and 20 minutes for pint (500 mL) jars.
Categories: Boiling Water Bath, BWB Condiments, BWB Vegetables, Canning, Preserving
Tags: Sicilian
Submitted by: wvhomecanner on August 29, 2010