I am the first to admit that when I ran across this recipe a few years ago I laughed. Out loud.
The words 'canned' and 'coleslaw' just do NOT go together, I thought! There's no way this can work!
I am the only person in my house who really likes coleslaw. But the idea of having coleslaw in a jar on the shelf was just too tempting. Coleslaw on hand? Anytime I want? For the rare hot dog I allow myself? To throw together a last minute side dish for a potluck or picnic?
Oh yeaahhhh.
So I took a chance and made a batch–what did I have to lose? The ingredients were inexpensive and I figured that at the worst I would have a few pints of soft pickle-ey cabbage that I would have to find creative uses for, right? I even made it easy on myself and bought pre-shredded coleslaw 'mix' at the produce shop. And I was amazed.
This is GOOD! Yes, it is crunchy, yes it is delicious. You can eat it straight from the jar. You can drain it well, and mix with mayo. It's GOOD, did I say that yet? You can use less sugar if you prefer. You can use Splenda. Oh, and you can freeze it!
Get the printable recipe here and save it to your recipe box.
How to make Coleslaw to Can or Freeze:
1 medium head cabbage
1 large carrot
1 green pepper (I prefer red)
1 small onion
1 teaspoon salt
Syrup
1 cup vinegar
¼ cup water
2 cups sugar
1 teaspoon celery seeds
1 teaspoon mustard seeds
Shred together vegetables. Add the salt. Let stand 1 hour.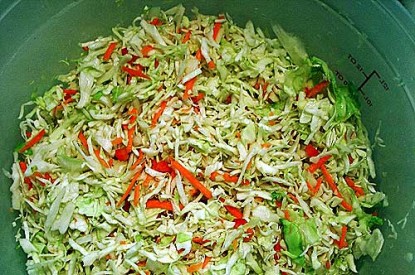 Drain water from vegetables. (I also rinse and drain.) Boil syrup ingredients together for 1 minute. Cool.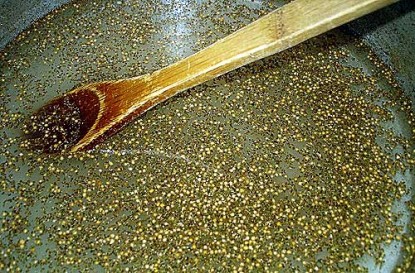 Add syrup to vegetables (or vegetables to the syrup like I did).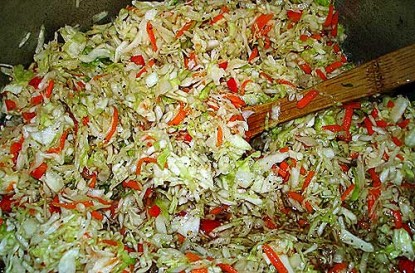 Pack into quart jars. (I use pints.)

Process in a boiling water bath for 15 minutes.

If you don't want to can it, you could put it into freezer containers instead and freeze. Leftovers may also be frozen. This slaw may be drained before use and mayonnaise added, or used as is.
You can also find Dede at Yahoo's Canning2.

Interested in contributing a guest post to the Farm Bell blog? Read information here for Farm Bell blog submissions.

Want to subscribe to the Farm Bell blog? Go here.