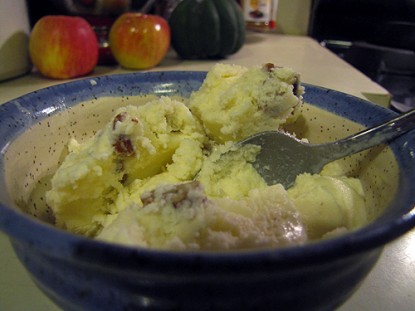 Difficulty: Easy
Servings: varies
Prep Time:
30 minutes
Cook Time:
n/a
Ingredients
1/2 cup butter
1/2 – 1 teaspoon salt
1 cup halved or chopped pecans
2 eggs
3/4 sugar
1 quart cream
Directions
Melt butter in a small pot. Add salt to your tastes. Add the pecans–chopped or halved, however you like them in your ice cream. Strain out the pecans and set aside the melted butter. Let the melted butter cool–but not solidify. (Don't put it in the fridge.) Place pecans on a baking sheet and toast under the broiler. Many butter pecan ice cream recipes don't tell you to toast the pecans. To me, this is crucial. I love the flavor difference from the toasting. Place the toasted pecans in a small bowl in the freezer to chill them as quickly as possible.
Whisk the eggs and sugar together then whisk in the melted butter. Slowly whisk in the cream. Then churn immediately per your ice cream maker, adding the pecans at the last minute. Store in a freezer container.
Categories: Desserts, Ice Creams
Submitted by: suzanne-mcminn on January 20, 2015