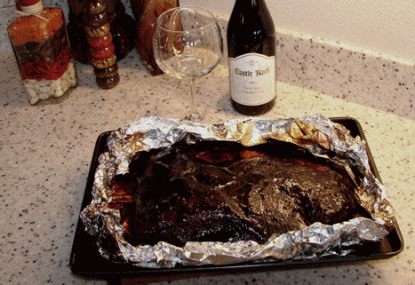 Difficulty: Easy
Servings: 6 to 8
Prep Time:
10 minutes, plus marinating
Cook Time:
6 hours
Ingredients
1 (4 – 6 lb.) beef brisket, trimmed
1 (5 oz.) bottle liquid smoke
1 onion, chopped
2 tsp. garlic salt
1 to 2 tsp. salt
1/3 cup Worcestershire sauce
1 (12-18 oz.) bottle barbecue sauce
Directions
Place brisket in a large shallow dish or extra-large zip top bag; pour liquid smoke over brisket. Sprinkle evenly with onion, garlic salt and salt. Cover or seal, and chill 8 hours, turning occasionally.
Remove brisket and place on a large piece of heavy-duty aluminum foil, discarding liquid smoke mixture. Pour Worcestershire sauce evenly over brisket, and fold foil to seal; place wrapped brisket in a roasting pan.
Bake at 275-degrees for 5 hours. Unfold foil; pour barbecue sauce evenly over brisket. Bake 1 more hour, uncovered.
Categories: Beef, Budget, Main Dish
Submitted by: rilleysmom on June 18, 2010