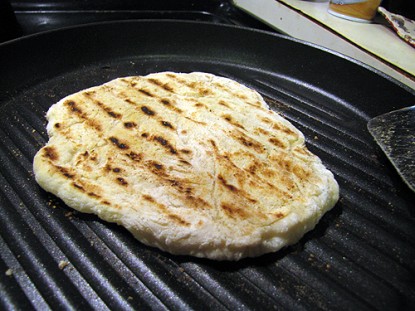 Difficulty: Easy
Servings: varies
Prep Time:
1 1/2 hours
Cook Time:
5-10 minutes
Ingredients
1 1/2 cups warm water
1 teaspoon yeast
2 tablespoons sugar
1/2 teaspoon salt
2 tablespoons oil
3 1/2 cups flour
Directions
In a large bowl, combine water, yeast, and sugar. Let sit five minutes. Add the salt, oil, and first cup of flour, stirring with a heavy spoon. Add more flour a little at a time, stirring until the dough becomes too stiff to continue stirring easily. Dust with a little more flour and begin kneading. The amount of flour is approximate–your mileage may vary! Continue adding flour and kneading until the dough is smooth and elastic. Let dough rise in a greased, covered bowl until doubled. (Usually, about an hour.) Uncover bowl; sprinkle in a little more flour and knead again. Let rest five minutes.
Tear off a ball of dough at a time–whatever size you like–and shape flat on a floured surface. You can use a rolling pin, or just flatten and shape with your hands. (Hand-shaping will give a more rustic look–you aren't going for perfect here.) You can make a large flatbread and grill it for pizza, or you can make smaller flatbreads and use it for all kinds of things! Dipping bread, folded sandwiches, or cut sandwiches, appetizers or a meal.
Brush both sides of the shaped flatbreads with olive oil and sprinkle with salt then grill outdoors or inside on a stove top grill pan over medium-high heat for about five minutes per side. (This will vary on your heat setting and the thickness of your flatbread, so watch it.)
Categories: Breads, Other Breads, Yeast Breads
Submitted by: suzanne-mcminn on January 16, 2015