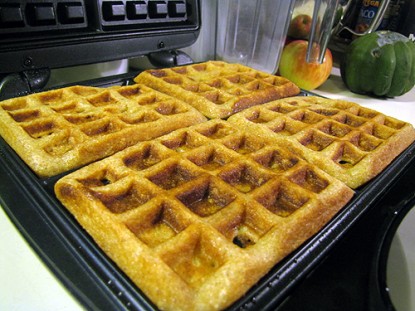 Difficulty: Easy
Servings: 8 square waffles
Prep Time:
10 minutes
Cook Time:
5 minutes
Ingredients
1 cup whole grain flour*
3/4 cup all-purpose flour
1-2 tablespoons sugar, to taste
1 tablespoon baking powder
1/4 teaspoon salt
2 egg yolks
1 3/4 cups milk
1/2 cup cooking oil or melted butter
2 egg whites
Directions
*I like a combination of white winter wheat and spelt, but use whatever you like.
In a mixing bowl, combine flours, sugar, baking powder, and salt. In another bowl, whisk egg yolks lightly. Beat in milk and oil or butter. Add egg yolk mixture to the flour mixture all at once. Whisk lightly and let stand five minutes while preparing the egg whites. Beat egg whites till stiff peaks form. Whisk the flour/milk mixture again lightly then gently fold in egg whites.
Bake according to your waffle maker's instructions.
Categories: Breakfast, Griddles
Submitted by: suzanne-mcminn on January 22, 2015