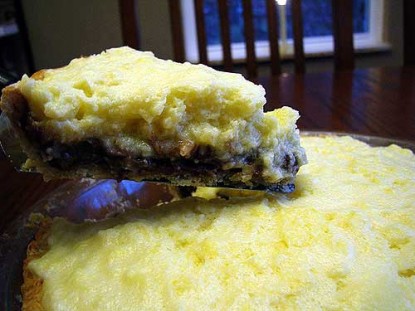 Difficulty: Intermediate
Servings: 8
Prep Time:
1 hour plus chilling time
Cook Time:
10 minutes to bake pie shell
Ingredients
1 single-crust pie shell
1 envelope unflavored gelatin
1/4 cup water
1 cup sugar (divided)
1 tablespoon cornstarch
2 cups milk
4 egg yolks
1 teaspoon vanilla
3/4 cup semi-sweet chocolate chips
2 tablespoons rum (or 1/2 teaspoon rum extract)
4 egg whites
Directions
Step One: Prepare one single-crust pie shell. Prick all over, the more the better, with a fork. Bake at 450-degrees for about 10 minutes. Cool.
Step Two: Soften gelatin in 1/4 cup cold water and set aside.
Step Three: In a small saucepan, combine 1/2 cup of the sugar and the cornstarch. Stir in milk and egg yolks. Cook and stir over medium heat until bubbly. Cook and stir two minutes more. Remove from heat and stir in vanilla.
Step Four: Pour half of the milk mixture into a medium-size bowl. (Keep remaining mixture in saucepan warm with the lowest setting on your stovetop. It is very important that you keep the saucepan mixture warm while you are working with the chocolate in this step.) Add chocolate to the half in the bowl and stir to melt. Pour into baked pie shell. Chill while continuing the rest of the pie preparation.
Step Five: Stir softened gelatin mixture into the warmed saucepan with the remaining half of the milk mixture until gelatin dissolves. Stir in the rum. Chill the milk/gelatin/rum mixture until it is about the consistency of syrup. If you let it chill too long, it will gel into clumps and the pie will still work, but it won't look as pretty. Just check it every 5 minutes to see when it thickens up to syrupy texture and take it out then. (This will depend on your fridge temp, but should probably be less than 30 minutes.)
Step Six: Beat egg whites till soft peaks form. Gradually add remaining 1/2 cup of sugar, continuing to beat till stiff peaks form.
Step Seven: Fold beaten egg whites into the prepared, syrupy-textured milk/rum mixture. Spoon over chocolate bottom in pie shell. Chill overnight (or like 8 hours).
Submitted by: suzanne-mcminn on April 4, 2011