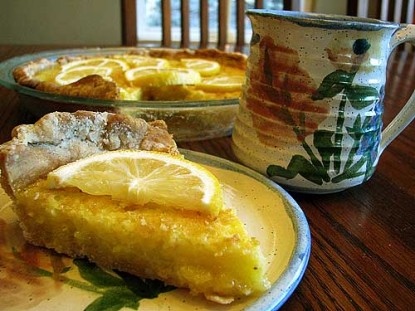 Difficulty: Easy
Servings: 8
Prep Time:
20 minutes
Cook Time:
45-50 minutes total
Ingredients
pastry for single-crust pie
4 eggs
1 1/2 cups sugar
1/4 cup butter, melted
1 tablespoon cornmeal
1 1/2 teaspoons vanilla
2 tablespoons lemon juice
4 teaspoons finely grated lemon peel, divided
Directions
Prepare pastry in a greased pie pan. Prick pie crust all over with a fork. Bake pastry at 450-degrees for 8-10 minutes. (Watch it so it doesn't overbrown.) Remove to wire rack. Reduce oven to 350-degrees.
Beat eggs till combined. Add sugar, butter, cornmeal, vanilla, and lemon juice. Reserving two of the four teaspoons of lemon peel, add two teaspoons to the filling mixture. Stir well to combine. Pour into pie shell. Bake at 350-degrees for 35-40 minutes. After the first 20 minutes of baking on the top rack, remove pie from the oven. Sprinkle the reserved two teaspoons of grated lemon on top. Place pie back in oven on the lowest rack until done. Cool on a wire rack. (Keep refrigerated after cooled.)
Submitted by: suzanne-mcminn on April 4, 2011