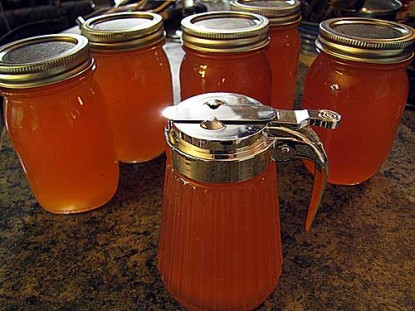 Difficulty: Easy
Servings: 2 pints
Prep Time:
30 minutes
Cook Time:
10 minutes
Ingredients
3 cups apricot juice (unsweetened)
2 tablespoons lemon juice
3 cups sugar
Directions
Combine apricot juice, lemon juice, and sugar in a large pot. (Add a little bit of butter to prevent foaming.) Bring to a boil. Boil 5 minutes. Ladle hot syrup into hot jars. Adjust lids and rings. BWB 10 minutes
Thicken after canning with one tablespoon cornstarch or ClearJel per cup of syrup. Bring to a boil.
Categories: Boiling Water Bath, BWB Condiments, Canning, Preserving, Steam Juicer, Syrups
Submitted by: suzanne-mcminn on June 27, 2010