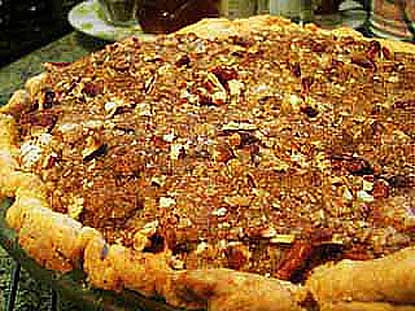 Difficulty: Easy
Servings: 8
Prep Time:
15 minutes
Cook Time:
25 minutes
Ingredients
1 unbaked pie shell
FOR THE PIE FILLING:
4 cups fresh or frozen sliced peaches
1/2 cup sugar
2 tablespoons flour
1/2 teaspoon cinnamon
FOR THE CRUMB MIXTURE:
1/2 cup flour
1/2 cup packed brown sugar
4 tablespoons butter
1/2 cup crushed pecans
Directions
Toss peaches in a large bowl with flour and sugar. Spoon filling into an unbaked single-crust pie shell. In a small bowl, work butter into the flour and brown sugar with a pastry cutter. Stir in the crushed pecans then sprinkle mixture evenly over pie. Bake at 375-degrees for 25 minutes on the lower oven rack. Transfer pie to the top oven rack and bake an additional 20 minutes. Serve with whipped cream or vanilla ice cream.
*If you don't have fresh peaches, use two 21-ounce cans of prepared peach pie filling, omitting the flour, sugar, and cinnamon in the first step.
Submitted by: suzanne-mcminn on April 4, 2011