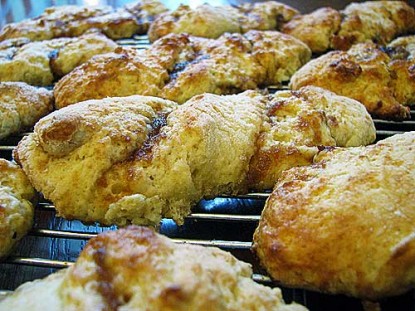 Difficulty:
Cook Time:
10-12 min
Ingredients
2 cups Quick Mix (or other baking mix)
3 tablespoons sugar
1/2 cup butter
1 egg
1/2 cup milk
8-ounce jar of jam or fruit butter
Directions
Preheat oven to 450-degrees. Measure baking mix and sugar into a medium-sized bowl. Blend in butter with a pastry cutter.
Add egg and milk all at once. Stir to mix; knead a few times, adding a bit of flour if necessary to keep dough from sticking. (You want a stiff biscuit dough–don't be afraid to add extra flour.) Turn out onto floured surface and roll into a rectangle (approximately 15 inches by 8 inches). Spread jam or fruit butter all over the top.
Fold the dough over lengthwise, pinch edges to seal, and cut dough in strips.
Give each strip a twist.
This is a messy job, but someone's gotta do it. Or you won't have any biscuit twists!
Place biscuit twists on a greased baking sheet. Bake in a 450-degree oven for 10-12 minutes, till biscuits are golden brown.
By the way, you can also serve biscuit twists warm with vanilla ice cream for dessert!
As another variation, you can make these with brown sugar and pecans. Here's how:
For Pecan Biscuit Twists–
2 tablespoons butter
1/3 cup crushed pecans
1/4 cup brown sugar
Melt two tablespoons butter in a small microwave-safe bowl. Crush 1/3 cup pecans. Brush melted butter on top of biscuit dough rectangle. Combine brown sugar and crushed pecans. Spread brown sugar and pecan mixture over buttered dough and proceed as with jam biscuit twists.
Categories: Biscuits, Breads, Desserts, Ingredients & Mixes, Other Breakfast, Other Desserts
Submitted by: suzanne-mcminn on July 3, 2010