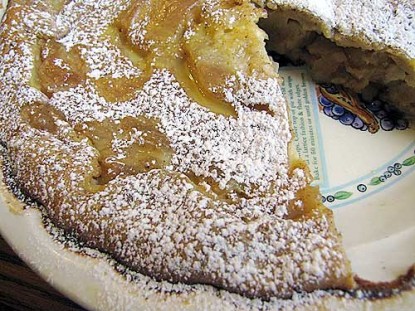 Difficulty: Easy
Servings: 8
Prep Time:
15 minutes
Cook Time:
45 minutes
Ingredients
2 cups sliced pears in syrup*
1 tablespoon crystallized ginger
3 eggs
1/2 cup all-purpose flour
1/2 cup sugar
1/2 teaspoon cinnamon
1 cup milk
1/2 cup light cream
1 teaspoon vanilla
pinch of salt (optional)
powdered sugar for the top
Directions
*I used a pint of pears in a light syrup that I froze last fall. You could use home-canned or store-bought pears as well as fresh. You only need about 1/2 cup of the syrup, so if there's too much, drain off some of the syrup before getting started. If using fresh, you'll need to add some liquid and cook the pears longer to soften them. You could use (any) fruit juice, brandy, cider, or even plain water, depending on what you have and what you like.
Simmer the pears with the ginger to soften and break up the ginger. Turn off the heat and evenly distribute the pears with about 1/2 cup of the juice/syrup in a greased deep dish pie pan. (Use your largest pie pan.) Whisk the eggs, flour, sugar, cinnamon, milk, cream, vanilla, and salt (if using) in a medium-size bowl. If you have lumps, let it sit a few minutes to dissolve then whisk again.
Pour the egg mixture over the top. You can do this on the counter then transfer to the oven. If you're worried about spilling, pull out the oven rack and pour it there. This will fill up even a deep dish pie pan.
Bake at 375-degrees for about 40-45 minutes. Let cool completely then dust with powdered sugar.
Categories: Breakfast, Dairy, Desserts, Egg Dishes, Eggs, Entertaining, Gourmet, Tarts
Submitted by: suzanne-mcminn on February 6, 2011