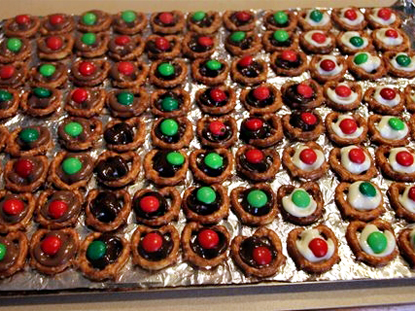 Difficulty: Easy
Servings: as many as you'd like
Cook Time:
3 1/2 min
Ingredients
Salted knot pretzels
Candy wafers — white, milk chocolate, dark chocolate or even those red and green colored ones
M & Ms
Directions
Preheat your oven to 200 degrees.
Cover cookie sheets with foil and line up your pretzels.
Cover each pretzel with a candy wafer. Put the cookie sheet in the oven just until the chocolate wafers turn melty. In my oven this only takes 3 1/2 minutes.
Remove the cookie sheet from the oven and place an M&M candy on each chocolate wafer.
Set aside to cool completely.
Tags: Christmas Cookie
Submitted by: kellyb on January 4, 2011