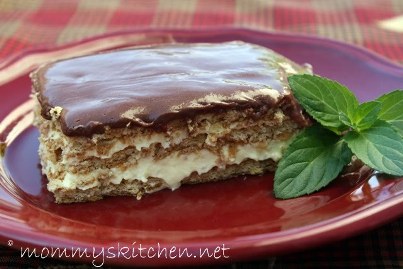 Difficulty: Easy
Servings: 16
Prep Time:
20 minutes + overnight refrigeration
Ingredients
2 – (3.5 ounce) packages instant vanilla or french vanilla pudding mix
1 – (8 ounce) container frozen whipped topping (cool whip), thawed
3 – cups milk
1 – (16 ounce) package graham crackers
1 – (16 ounce) tub prepared chocolate frosting
Directions
Pour the dry pudding mix into a medium size bowl and measure out 3 cups of milk. Pour into the bowl and whisk the pudding until blended and begins to thicken. If you don't have a whisk a spoon works just as good. Add the thawed cool whip and gently fold into the pudding mixture. Arrange a single layer of graham cracker squares in the bottom of a 13×9-inch baking pan. Evenly spread half of the pudding mixture over the crackers. Top with another layer of graham crackers, then the remaining pudding mixture. Top with a final layer of graham crackers.
Now it is time for the frosting. I put my chocolate frosting in the microwave for just a bit on defrost!! Don't choose cook or you will have a clumpy mess. Microwave it for about 20 -30 seconds just to get it nice, smooth and pourable. Pour the frosting over the whole cake and spread it all around up to the edges of the pan. Chill cake for 6-12 hours and then serve. You want it to be soft just like a true eclair.
Categories: Cakes, Other Dairy, Other Desserts, Puddings & Custards
Submitted by: mommyskitchen on August 16, 2010