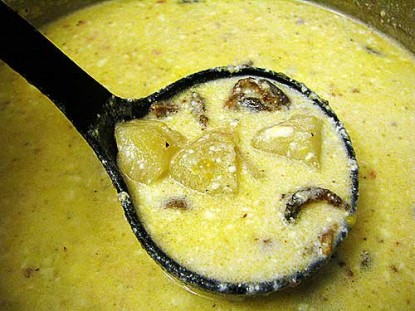 Difficulty: Easy
Servings: many
Prep Time:
20 minutes
Cook Time:
10 minutes plus potato baking time
Ingredients
4 large baking potatoes
10 strips of peppered bacon
2/3 cup butter
2/3 cup all-purpose flour
1 medium onion, chopped
7 cups milk
1 cup cheese, shredded (cheddar or pepper jack or whatever you like!)
8 ounces sour cream
3/4 teaspoon seasoned salt
Directions
Bake potatoes; cool, peel, and cut up. While potatoes are baking, fry bacon. Cool and crumble.
In a large soup pot, melt butter. Add flour and chopped onion. Once butter/flour/onion mixture thickens and bubbles, add the milk, cheese, sour cream, potatoes, and seasoned salt. Simmer for 10 minutes. Stir in crumbled bacon. Serve immediately.
Note: If you use regular bacon, add 1/2 teaspoon of coarse ground pepper. Or, add some coarse ground pepper even if you do use peppered bacon. As much as I love this soup, this soup loves pepper!
Categories: Budget, Other Soups & Stews, Soups & Stews
Submitted by: suzanne-mcminn on December 18, 2010