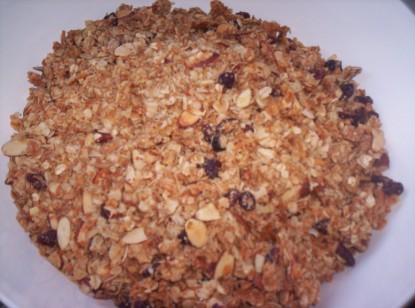 Difficulty: Intermediate
Servings: 6-8
Prep Time:
10 minutes approx.
Cook Time:
40 minutes
Ingredients
7 c. rolled oats (not instant)
1 c. chopped or sliced almonds
3/4 c. pecans, chopped
1 c. shredded coconut
1/4 c. brown sugar
1/2 tsp. salt
1 tsp. cinnamon
1/2 c. canola or vegetable oil
1/2 c. honey
1 tsp. vanilla extract
1 1/2 c. dried cranberries (or raisins)
Directions
Preheat oven to 300ºF. Spray two jelly roll pans/cookie sheets (the kind with a 1/2″ lip all around) with cooking spray.
In a large bowl, mix together by hand the rolled oats, almonds, pecans, coconut, brown sugar, salt, and cinnamon. Next add the oil, honey, and vanilla. Continue to mix by hand, digging to the bottom and bringing it up to the top to help all the ingredients to circulate well. Break up any over-large clumps, but leave some medium clumps in as these will become the crunchy chunks we all love in granola. Mix until well combined. (Do not add the cranberries or raisins at this point. If they bake with the granola they will end up as hard as rocks.)
Spread the mixture evenly onto the two cookie sheets. Put both pans in the oven. Bake 20 minutes. Stir and rotate pans. Bake for another 20 minutes or until mixture is golden brown. Remove from the oven and stir the granola around, otherwise it will stick horribly.
After the granola has cooled for five minutes, dump the granola back into the large bowl and mix in the dried cranberries or raisins. Enjoy plain or with milk! Once completely cool, store granola in a cool, dry place.
***Note: Feel free to add or remove the add-ins and spices with your own favorites. On my last batch I added nutmeg and cardamom. Here are some more suggestions:
*raw sunflower seeds
*flax seeds
*walnuts
*pumpkin seeds
*dried bananas
*dried apples
*nutmeg
*cardamom
*ginger
*allspice
*pumpkin pie spice
*almond extract
Get fancy! Have fun!
Categories: Appetizers & Snacks, Breakfast, Cereals
Submitted by: aelfswythe on May 4, 2010