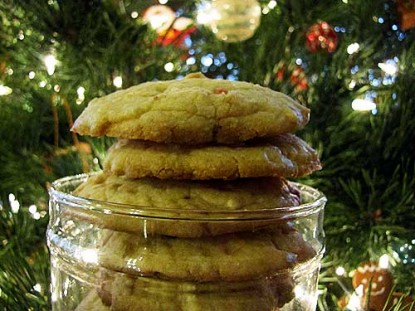 Difficulty: Easy
Servings: 3-4 dozen
Prep Time:
20 minutes
Cook Time:
8-10 minutes
Ingredients
8 ounces white chocolate chips*
1 tablespoon shortening
1/2 cup butter, softened
1 cup sugar
1 teaspoon vanilla
2 eggs
1 teaspoon baking powder
1/2 teaspoon salt
2 1/2 cups flour
3/4 cup hard candy, crushed
Directions
*Use white chocolate with cocoa butter.
Melt half of the white chocolate chips with a tablespoon of shortening in a small pan; set aside. Cream the butter and sugar in a mixing bowl. Add vanilla and eggs; mix again. Mix in melted white chocolate. Add baking powder, salt, and as much flour as you can with the electric mixer then stir the rest in with a spoon. Stir in the other half of the white chocolate chips and the crushed hard candy. (I use assorted fruit-flavor hard candies.)
Drop by spoonfuls on a lightly greased baking sheet. Bake at 375-degrees for 8-10 minutes. Cool on a wire rack.
Categories: Cookies & Bars, Desserts, Entertaining, Holiday
Tags: Christmas Cookie
Submitted by: suzanne-mcminn on December 18, 2010