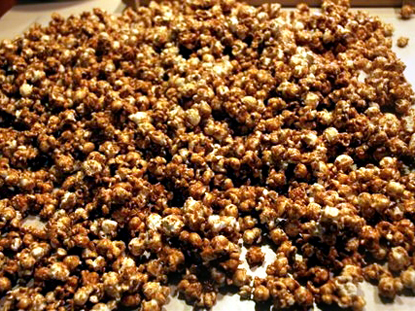 Difficulty: Easy
Servings: 10-12
Prep Time:
10 minutes
Cook Time:
60 minutes
Ingredients
Nonstick cooking spray
6 quarts popped popcorn, I use air popped
1 cup butter
2 cups firmly packed brown sugar
1/2 cup light corn syrup
1 teaspoon salt
1/2 teaspoon baking soda
1 teaspoon vanilla
Makes about 6 quarts
Directions
Preheat oven to 250 F.
Coat bottom and sides of large roasting pan with nonstick cooking spray. Place popped popcorn in roasting pan.
In heavy saucepan, slowly melt butter. Stir in brown sugar, corn syrup and salt. Bring to a boil, stirring constantly. Boil without stirring 5 minutes. Remove from heat. Stir in baking soda and vanilla.
Gradually pour hot mixture over popped popcorn, mixing well.
Bake 1 hour, stirring every 15 minutes. Remove from oven. Cool completely. I usually dump the caramel corn onto sheets of waxed paper on my counter to cool.
Break apart and store in tightly covered container.
Categories: Appetizers & Snacks, Candy, Gift Basket Goodies
Submitted by: kellyb on December 30, 2010