Hungarian food is often spicy, because of the hot paprika that is commonly used–though you will find sweet, or mild, paprika is used quite often. Combinations of paprika, lard and yellow onions is typical of Hungarian foods, along with a thick sour cream called tejföl. I use Paprika from the grocery spice section, olive oil instead of lard and normal ol' sour cream.
Today we're making a pretty simple dish–Hungarian Pork Paprikash. Say it fast, 5 times.
This is a version of the famous Hungarian dish, Paprikás, a paprika stew–meat simmered in thick creamy paprika gravy served with nokedli (small dumplings).
How to make Hungarian Pork Paprikash:
Cube 1 pound of pork loin chops and chop 1 medium onion.


Also, at this time, set 8 ounces wide egg noodles on to boil.

Over medium-high heat, cook pork in 1 tablespoon olive oil. Add 1 tablespoon paprika and cook till browned lightly on all sides.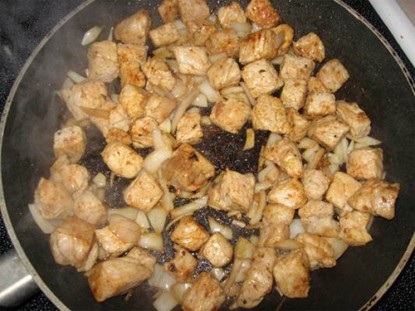 Remove the pork from the pan to a plate. Put the onion in with another tablespoon of olive oil. Let the onion cook over medium heat till it just starts to soften.

Then add the pork back.

Add 8 ounces canned tomatoes, 1 tablespoon paprika, salt, pepper, and 1/2 cup water.

Bring to a boil, then reduce heat and simmer til it begins to thicken. Or be like me and hate waiting so add cornstarch after 5 boring minutes.

Once its thickened, add 1/2 cup sour cream and mix in.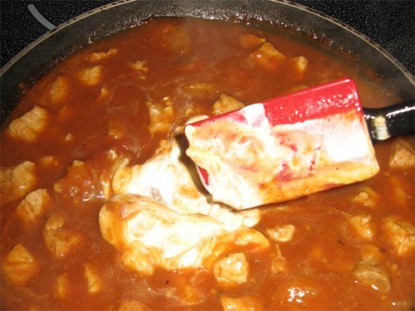 Add in the cooked noodles.
Spend 5 minutes trying not to spill while mixing way too many ingredients in a too-small pan.

I liked it by itself, but ManSteak liked it with salt. The kids ate it up like no tomorrow.
You'll be surprised how mild it is!


Get the handy print page and save this to your recipe box here:
Hungarian Pork Paprikash.
Rachel blogs at The Henway.

Do you have a recipe post or kitchen-related story to share on the Farm Bell blog? See Farm Bell Blog Submissions for information and to submit a post.

Want to subscribe to the Farm Bell blog? Go here.