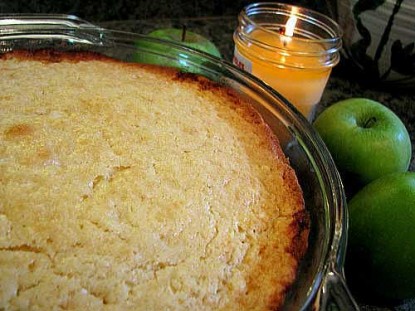 Difficulty: Easy
Servings: 6-8
Prep Time:
30 minutes
Cook Time:
50 minutes total
Ingredients
FOR THE FILLING:
3 cups sliced, peeled apples
1/2 cup molasses
1/4 teaspoon nutmeg
1/4 teaspoon cinnamon
1/4 teaspoon salt
FOR THE CRUST:
1/2 cup butter, melted
1 egg
1/2 cup milk
1/2 cup sugar
1 1/2 cups all-purpose flour
1/2 teaspoon salt
2 teaspoons baking powder
Directions
To prepare the filling:
Core, slice, and peel three cups of apples and place in a bowl. Add 1/2 cup of molasses. Add nutmeg, cinnamon, and salt. Mix well. Butter a one-and-a-half quart baking dish and dump in the apple mixture. Bake at 350-degrees for 20 minutes. Remove from oven.
To prepare the crust:
Melt butter. Add egg, milk, and sugar. Stir well. Add flour, salt, and baking powder. Mix together.
Spread evenly over baked apple mixture. Place back in the 350-degree oven for an additional 30 minutes. Serve with ice cream or whipped cream.
Categories: Cobblers, Desserts, Old-Fashioned
Submitted by: suzanne-mcminn on April 5, 2011