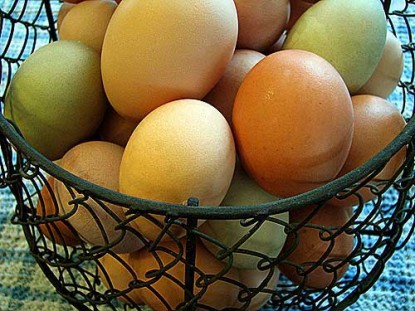 Difficulty: Easy
Servings: varies
Cook Time:
n/a
Ingredients
fresh eggs
Directions
Whole Eggs:
Break eggs into a bowl then pour into a strainer and through to a second bowl. This allows the whites and yolks to mix gently without adding air. This is the secret to freezing eggs. Use a colander with large holes. You can stir the eggs with a spoon very carefully–but not too much. No beating air into them! Scrape around on the bottom of the colander and gently on the inside to help the eggs strain out. (You do have to break the yolks–push down on them.) Pack in plastic freezer containers, leaving 1/4-inch headspace. Usage: Three tablespoons of egg mixture equals one whole egg.
Yolks Only:
Break yolks into a bowl. Add either 1 teaspoon sugar or 1/2 teaspoon salt per every six yolks (to prevent coagulation). Prepare and pack as for whole eggs. Usage: One tablespoon of mixture equals one egg yolk.
Whites Only:
Break whites into a bowl. Prepare and pack as for whole eggs. Usage: Two tablespoons equals one egg white.
Easy! Eggs can be frozen up to 12 months. Take out what you need and thaw it slightly before using in a recipe and you're good to go. This is particularly nice when you have a recipe calling for egg whites or egg yolks, or some uneven number like two whole eggs and one egg yolk. (What are you gonna do with that one leftover egg white?) Storing whites and yolks separately along with whole eggs in batches in the freezer means no wasting!
Categories: Dairy, Eggs, Tips & Tricks
Submitted by: suzanne-mcminn on April 5, 2011