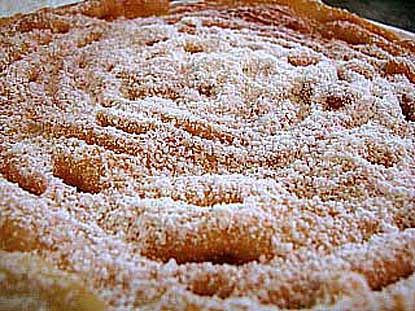 Difficulty: Easy
Servings: varies
Prep Time:
5 minutes
Cook Time:
4 minutes per funnel cake
Ingredients
6 cups flour
1 tablespoon baking powder
6 tablespoons sugar
1 1/2 teaspoons salt
1 1/2 teaspoons cinnamon
Directions
Per 1 cup of mix, add one egg and 3/4 cup of milk.
Measure mix into a medium-size bowl. Meanwhile, heat oil in a large skillet. You want the oil hot, but not too hot. What I call medium-hot. You're going to need to fry the funnel cake for several minutes without burning it. You want a good bit of oil, too. About an inch at the minimum. (Traditionally it should be deep-fried, but I hate to use that much oil, and about an inch is enough to do it.)
Add egg(s) and milk to the mix in the bowl. Blend well and pour or scoop about 1/2 cup of batter into a funnel, holding the tip of the funnel closed with your finger. Move the funnel over the hot oil and let the batter pour out in a circular pattern, starting in the middle and moving out.
Fry approximately three minutes on the first side. Flip and fry about another minute on the second side.
Sprinkle generously with powdered sugar and eat it warm. You can add just about anything for toppings, but the most popular toppings I see at fairs and festivals include strawberries, apples, chocolate syrup, caramel, and whipped cream. Me, I like my funnel cake straight–powdered sugar and lots of it! Make big pans of it for several people to tear off pieces from, or make individual, small funnel cakes for desserts and let everyone top their own.
Per cup of mix used = 2 funnel cakes.
Categories: Appetizers & Snacks, Desserts, Entertaining, Holiday, Ingredients & Mixes, Kid-Friendly, Other Desserts, Presentation, Special Occasions
Submitted by: suzanne-mcminn on April 5, 2011