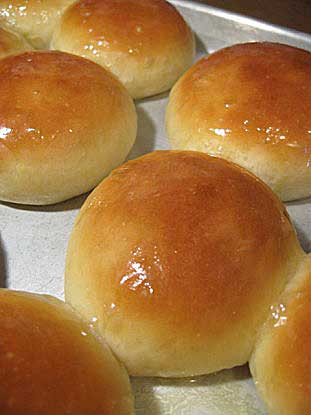 Difficulty: Intermediate
Servings: 32 Rolls
Ingredients
8 cups flour
2 packages active dry yeast
2 cups warm water
3 unbeaten eggs
3/4 cup cooking oil
1/2 cup granulated sugar
1 Tbsp salt
Directions
Combine in mixing bowl 4 cups flour and yeast.
Combine in another bowl warm water, oil, sugar, and salt.
Add water to flour and yeast.
Add eggs, beat on a low speed for 1/2 minute.
Scrape sides.
Mix at high speed for 3 minutes.
Stir in enough of the remaining 4 cups of flour to make a soft dough.
Turn out on a lightly floured surface and knead for 5 minutes or until smooth.
Place in a greased bowl turning once.
Cover with wax paper.
Let rise until doubled.
Punch down and let rest for 5 minutes.
Make into rolls on baking sheet.
Let rise until almost doubled.
Bake at 350 degrees (F) until golden brown (about 15 – 20 minutes).
Brush with butter if desired.
Submitted by: staci on May 29, 2010