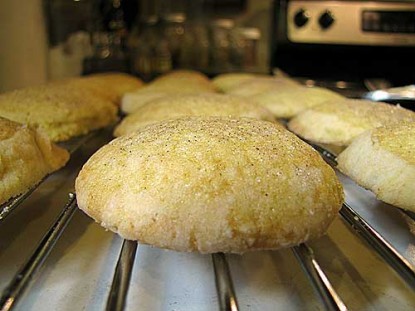 Difficulty: Easy
Servings: 3-4 dozen cookies
Prep Time:
15 minutes
Cook Time:
8-10 minutes
Ingredients
1/3 cup cornmeal
1/3 cup hot water
2 1/2 cups all-purpose flour
1 cup butter, softened
1 teaspoon baking soda
1/2 teaspoon salt
1/2 teaspoon almond extract
2 eggs
1 cup raisins or diced blueberries, strawberries, etc (optional)
1 1/4 cups sugar
ground cardamom and sugar for sprinkling
Directions
Place cornmeal in a small bowl. Add 1/3 cup very hot water. Stir the water and cornmeal until the cornmeal is completely moistened. Let sit 10 minutes for the cornmeal to soften.
In a large bowl, measure flour, butter, cream of tartar, baking soda, salt, almond extract, eggs, and the 1 1/4 cups sugar. Add softened cornmeal. Mix till well blended. Stir in dried fruit, if using. Shape dough into logs and wrap. Chill dough for two hours or until easy to handle. Cut slices and place on a greased baking sheet sprinkled with cornmeal.
Combine 1/2 teaspoon ground cardamom and 1 tablespoon sugar in a small bowl. Sprinkle cardamom-sugar mixture on tops of cookies. Bake at 400-degrees for 8-10 minutes.
Categories: Cookies & Bars, Desserts
Submitted by: suzanne-mcminn on May 15, 2012