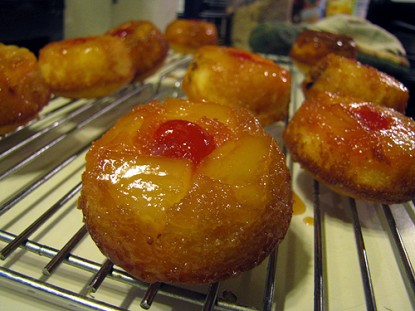 Difficulty: Easy
Servings: 6-9 cupcakes
Prep Time:
15 minutes
Cook Time:
20 minutes
Ingredients
2 eggs
2/3 cup sugar
4 tablespoons pineapple juice*
2/3 cup all-purpose flour
1 teaspoon baking powder
1/4 teaspoon salt
For the topping–
1/4 cup butter
2/3 cup brown sugar, packed
1 can pineapple rings
1 jar maraschino cherries
Directions
*You can just use the pineapple juice in the canned pineapple.
Preheat oven to 350-degrees. Grease muffin tins. In a mixing bowl, add eggs, sugar, and pineapple juice. Beat two minutes. In a separate bowl, combine the flour, baking powder, and salt. Add to the wet ingredients and mix another two minutes. Meanwhile, prepare the topping.
In a small sauce pan, melt the butter; add the brown sugar. Stir on low heat for one minute. Spoon a layer of the warm brown sugar mixture into the bottom of each muffin tin. (Depending on the size of your muffin cups, this will make 6 to 9 cupcakes. Your mileage may vary.) Place a pineapple ring on top of the butter-brown sugar mixture in each muffin cup, cutting the rings if necessary to fit your muffin cups. Put a cherry in the middle of each pineapple ring. Pour cake mixture over the pineapples and cherries, filling each cup about 3/4 full. Bake at 350-degrees for about 20 minutes. Cool on a wire rack.
Categories: Cupcakes, Desserts
Submitted by: suzanne-mcminn on May 11, 2015