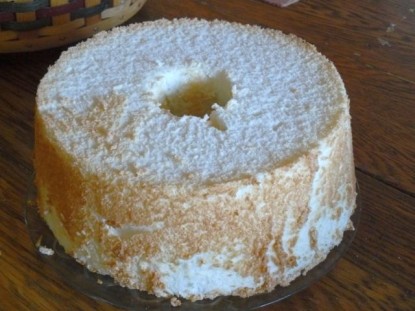 Difficulty: Intermediate
Servings: 12
Cook Time:
30- 35 minutes
Ingredients
1 cup cake flour (must be cake flour)
12 egg whites (1-1/2 cups)
3/4 cup plus 2 Tablespoons sugar
1-1/2 teaspoon cream of tartar
1/4 teaspoon salt
3/4 cup sugar
1-1/2 teaspoon vanilla
1/2 teaspoon almond extract
Directions
Set Oven at 375°
Combine cake flour and 3/4 cup sugar.
In another large mixer bowl beat egg whites, cream of tartar and salt until foamy. Add second amount of sugar, 2 tablespoons at a time, beating on high speed until meringue holds stiff peaks. Remove mixer bowl (finished with mixer now)
Gently fold in flavorings. Sprinkle flour/sugar mixture, 1/4 cup at a time, over meringue, folding in gently until flour mixture disappears. Push batter into ungreased tube pan. Cut through gently with spatula to remove air pockets.
Bake 30-35 minutes until top is browned and springs back when touched with finger. Invert pan over funnel (I use the top of a soy sauce bottle) until completely cool.
Optional: May fold into batter flaked coconut or chopped maraschino cherries.