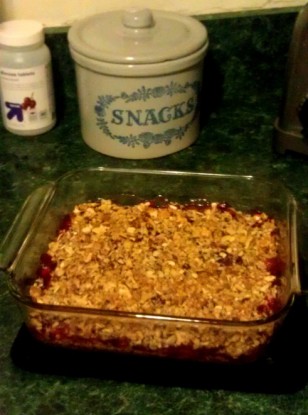 Difficulty: Easy
Servings: 8
Prep Time:
20 minutes
Cook Time:
40 minutes
Ingredients
Filling:
1/3 cup white sugar
1 tablespoon and 1 teaspoons cornstarch
1/2 cup cold water
1/2 (21 ounce) can light/sugar free cherry pie filling (Walmart has a great one w/ only 8 carbs per 1/3 cup)
1/2 teaspoon almond extract
2 1/3 cups chopped fresh rhubarb, cut to 3/4 inch pieces
Crust and Topping:
1/4 cup all-purpose flour
1/4 cup whole wheat flour
3/4 cup rolled oats
1/2 cup packed brown sugar
1/4 cup margarine or butter
1/2-1/3 cup crushed sliced almonds and walnuts
Directions
In a saucepan over medium heat, combine the sugar and cornstarch and add the cold water. While stirring consistently, heat until it starts bubbling and thickens to a nice clear glue-like consistency. Stir in the cherry filling and add the almond extract. Stir well and set aside to cool. Give it a taste too, as you might like more or less almond flavoring.
Preheat your oven to 375 degrees. In a mixing bowl, combine the flours, oats, and brown sugar, and cut in the butter until the mix is nice and crumbly. I did it by hand with a fork, but if I could have found my beater dough hooks, they work nicely also. Use about half of this to pat into your 8 x 8 glass baking dish and smoosh it down hard. You may add more or less, depending on your preference for how thick your bottom should be. Put this in the oven for 5-7 minutes so it has a chance to cook a little and solidify. Lower the oven temperature to 350 degrees.
Remove from the oven. add your rhubarb pieces to cover it completely and then spread the cherry mixture over the top of the rhubarb. It will all liquify together, so it doesn't have to cover every inch. Add your crushed nuts to the remaining crumb mixture and stir well. Cover the top with the crumbs and your ready to bake.
Bake for around 40 minutes, or until the top is golden brown. This will be hot and bubbling when done, so be careful and let it cool enough! Serve warm with ice cream or whipped cream topping.
Submitted by: kbrenna on June 16, 2012