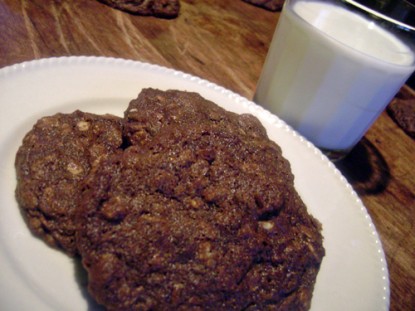 Difficulty: Easy
Servings: 5 doz (2 1/2" cookies)
Prep Time:
20 min
Cook Time:
8-10 min
Ingredients
1/2 cup shortening
1 1/4 cup sugar
2 eggs
2 Tablespoons molasses
1 3/4 cups all-purpose flour
1 teaspoon baking soda
1 teaspoon salt
1 teaspoon cinnamon
2 cups oats (or 1 cup oats and 1 cup granola or 2 cups granola)
1/2 cup chopped nuts
1 cup dried fruit of any kind
Directions
Mix shortening, sugar, eggs and molasses together thoroughly.
Sift flour, baking soda, salt and cinnamon together and stir into mixture.
Stir in oats/granola, nuts and fruit.
Drop rounded teaspoonfuls about 2″ apart on lightly greased baking sheet or silpat covered sheet.
Bake in a 400F oven about 8-10 minutes.
Categories: Cookies & Bars
Submitted by: cindyp on April 29, 2011