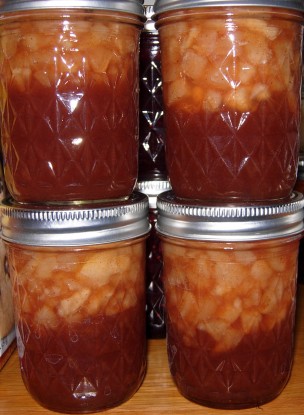 Difficulty: Easy
Servings: 6-7 half pint jars of jam
Prep Time:
20
Cook Time:
40
Ingredients
4 cups peeled, cored and diced pears
7 1/2 cups granulated sugar
1/3 cup lemon juice
1-1/2 teaspoons ground cinnamon
1 packet pectin (I use Ball liquid pectin. Each pouch is 3 ounces)
1 tsp. vanilla extract
1 tsp. butter (optional, to reduce foaming)
Directions
Put pears, cinnamon and lemon juice in pot and mix well. Pour sugar in to mixture in pot and bring to a boil, boil hard for 1 minute, remove from heat.
Pour in liquid pectin. Place back on burner and boil hard for one minute; keep stirring so ingredients doesn't stick to bottom.
Remove from heat, put vanilla in and stir.
Ladle into hot jars. Put lids on then twist cap and water boil for 10 minutes.
Place on towel undisturbed for 24 hrs. Check seals.
These are great tasting and wonderful gifts for the holidays! I add 1/2 of a cinnamon stick in the jar on the bottom before pouring jam into the jars for added extra flavor.
Categories: Boiling Water Bath, BWB Fruits, BWB Jams, Jellies, Butters & Preserves, Canning, Gift Basket Goodies, Holiday, Preserving
Submitted by: jghardie on November 7, 2010