I have this cupboard. It's my Thanksgiving Cupboard. Everything in it is used only once a year, on Thanksgiving Day.
It was built to fit into the corner of my great-grandmother's house more than 80 years ago–into a corner with uneven floors.
I don't have the date it was built, only that my father and his brothers and sisters always remember it being in Grandma Liz's house. My oldest uncle is 81. When Grandma Liz passed, my grandfather brought it home. I remember it being in the front room in Grandma and Grandpa's house. Though Grandma Liz didn't use it for her china, Grandma Schultz did. When Grandma Schultz passed away it came to our house to live–for me when I had my own house.
I have one corner in my entire house this cupboard will fit into. Luckily it is in the dining room.
When Dad was stationed with the Navy in Japan 1960, he bought and shipped home to Grandma a service of 12 Mitake China. It was her first set of china. When Grandma passed, that china was given back to Dad who gave it to me–for when I had my own house.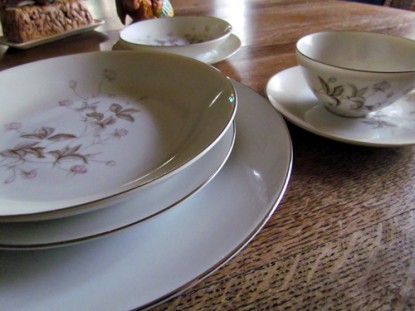 Mitake MTK1
The china takes up the entire cupboard. The different sized plates and bowls, cups, creamer, sugar and glasses takes up the entire top 4 shelves.
The bottom shelves holds the platters, gravy boat and covered potato bowl.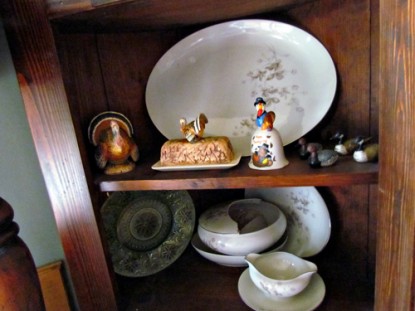 The covered dish on the bottom is the only things that has broken in over 50 years. The first break was on the shipping to the U.S. and it has never held a fixing since. I just leave the pieces in the bowl now. (I am subscribed to Replacements, LTD with the piece listed.)
Besides the china, there is a Thanksgiving butter dish and napkin holder. When Grandma passed, all of the granddaughters were able to pick one thing from her china cabinets (besides the pieces that were being returned to whomever had given them to her). I was 10 and I chose the turkeys.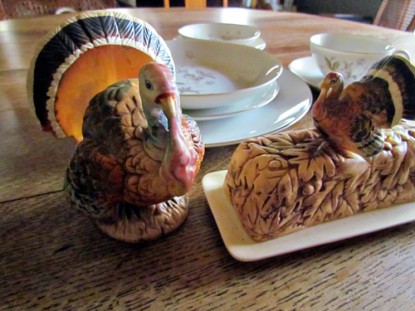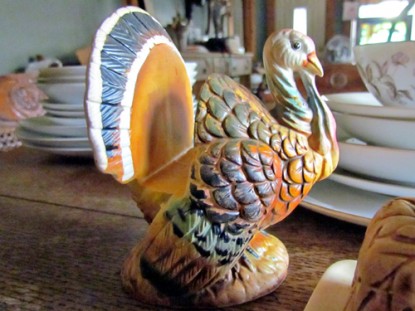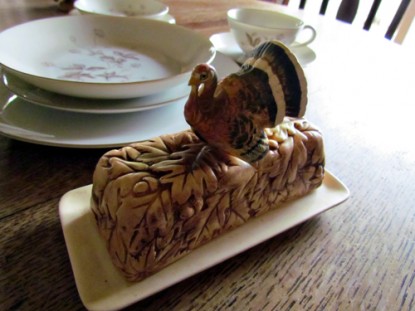 The china and the turkeys are special to me. The china was Grandma's first and only full set of china. They were my first and only set of china. And I use them–but only for Thanksgiving. And I set the turkeys out filled with butter and napkins.
I'm thankful for my family and I especially get teary eyed when I wash these pieces by hand twice each year–once before setting the table and again after we've sat and enjoyed a large dinner prepared by all of us.
It's the 1st of November already! We're coming into the stretch of busy days and holiday preparations. We'd love to hear your Thanksgiving family traditions, special menu plans, or special memories. Do you have a dish that is especially requested at Thanksgiving? Share it with us! Submit a blog post or submit a recipe!


Cindy blogs at Our Life Simplified.

Do you have a recipe post or kitchen-related story to share on the Farm Bell blog?
See Farm Bell Blog Submissions for information, the latest blog contributor giveaway, and to submit a post.

Want to subscribe to the Farm Bell blog? Go here.
What can you enter to win this month? Click here.