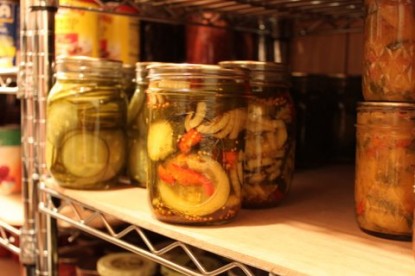 Difficulty: Easy
Servings: 6=8 pints
Prep Time:
20 minutes plus 3 hour standing time
Cook Time:
10 minutes plus 10 minute BWB
Ingredients
4 pounds cucumbers — sliced 1/4″ thick
2 tablespoons salt
4 cups white vinegar
4 cups sugar
1 1/2 tablespoons celery seed
1 1/2 tablespoons dill seed
1 1/2 tablespoons mustard seed
1/2 teaspoon turmeric
1 large red bell pepper — chopped
3 medium onions — chopped
Directions
Mix sliced cucumbers and salt together in a stainless bowl. Let sit for 3 hours. Rinse and pat dry.
Mix remaining ingredients together in a stainless or enameled kettle and bring to a boil. Add cucumbers, onion, and pepper and cook 2 minutes. Fill pint jars, seal, and process 10 minutes in boiling water bath.
Categories: Boiling Water Bath, BWB Pickles & Pickled Stuff, Canning, Preserving
Submitted by: kellyb on July 7, 2010