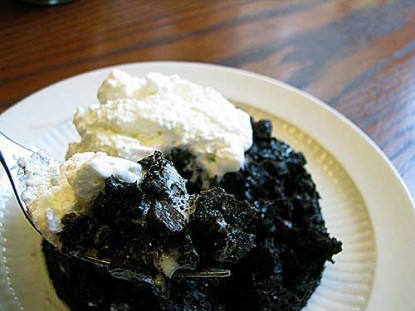 Difficulty: Easy
Servings: 1
Prep Time:
5 minutes
Cook Time:
3 minutes
Ingredients
1 large coffee mug or cereal bowl
4 tablespoons all-purpose flour
4 tablespoons sugar
2 tablespoons cocoa powder
1 egg
3 tablespoons milk
3 tablespoons oil
3 tablespoons chocolate chips
splash of vanilla
Directions
Place dry ingredients in mug or bowl and mix well. Add the egg and mix again. Pour in the milk and oil; mix well. Add chocolate chips and vanilla, mixing yet again. Put your mug or bowl in the microwave and cook for three minutes at 1000 watts. Allow to cool a little, and tip out onto a plate if desired. Add a scoop of vanilla ice cream or dollop of whipped cream.
I used "Special Dark" cocoa powder and "Special Dark" chocolate chips (Hershey's). The chocolate chips are optional–you could leave them out. (Why would you??)
I didn't think I had any mugs that were large enough so I used a bowl. This recipe fits perfectly in a regular size bowl like you'd use for cereal or ice cream.
When it was done, I flipped it out of the bowl and onto a plate. The chocolate chips drop to the bottom as it bakes, so when you flip it over, they are on top. I topped it with whipped cream.
Submitted by: suzanne-mcminn on June 6, 2010