I know that some people actually like traditional fruitcake, but I don't — not with its candied neon green and red cherries, candied citron and heavy, dry texture. On the other hand, fruitcake made with dried fruit is very good!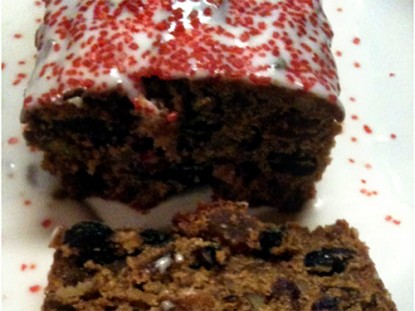 The following recipe is adapted from Alton Brown's Free Range Fruitcake.
How to make Dried-Fruit Fruitcake:
Cake Ingredients:
4 cups assorted dried fruits, chopped if necessary
1 cup Apple Brandy
1 cup sugar
1 1/4 cup butter
1 cup hard apple cider
1 teaspoon cinnamon
1 3/4 cups all-purpose flour
1 1/2 teaspoons salt
1 teaspoon baking soda
1 teaspoon baking powder
2 eggs
1/2 cup walnuts, chopped
Glaze ingredients:
2 cups powdered sugar
1/4 teaspoon vanilla
Water
I used 8 different kinds of dried fruit: 1/2 cup each apricots, blueberries, cantaloupe, cherries, cranberries, currants, mango, and pineapple. Mix together in large mixing bowl and pour apple brandy over it. Stir well. Leave at least overnight.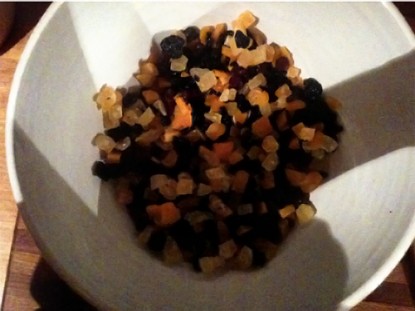 Heat oven to 325°F. Grease and flour three 4-1/2" x 8-5/8" foil loaf pans.
Place fruit/brandy mixture in non-reactive pan. Add sugar, butter, cider and cinnamon. Bring mixture to a boil, stirring often. Reduce heat and simmer about 10 minutes. Remove from heat and cool for about an hour.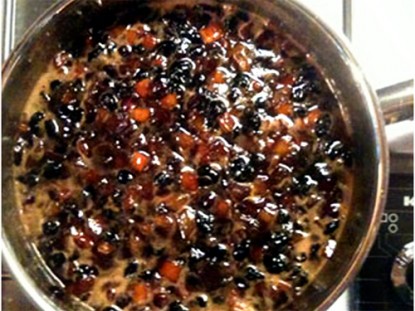 Put fruit mixture in large mixing bowl. Combine dry ingredients and sprinkle over fruit. Mix together with a large wooden spoon. Stir in eggs one at a time until completely combined. Stir in nuts.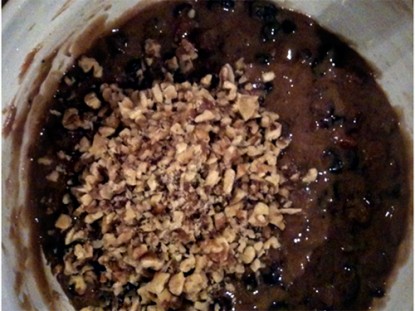 Spoon into pans and bake for 45-50 minutes – until cake tester comes out clean.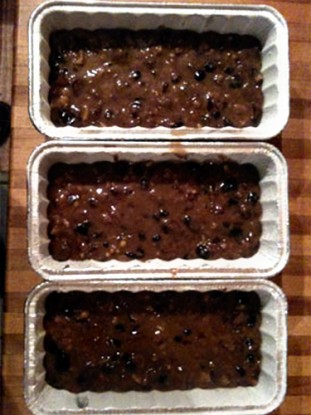 Let cakes sit for 10 minutes. Carefully remove from pans and sit on rack to cool. Since I was planning on giving two of these away, I washed two of the foil pans to put the cakes back into.
Once cool, mix glaze by combining powdered sugar and vanilla in a small bowl. Add enough water to make a thin icing. Glaze cakes and sprinkle with holiday sugar.
Use your holiday cookie cutters as patterns for decorating your cakes!
Enjoy! You might want to explain to the recipient that this is not your grandmother's fruitcake!
Get the handy print page and save this to your recipe box here:
Dried-Fruit Fruitcake.

Cindy blogs at Spiritway Press.


Do you have a Christmas recipe post or kitchen-related story to share on the Farm Bell blog?
Read information here for Farm Bell blog submissions.

Want to subscribe to the Farm Bell blog? Go here.