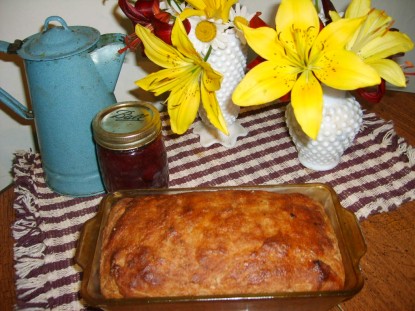 Difficulty: Intermediate
Servings: 14 slices per loaf depending how thick or thin sliced
Prep Time:
5 hours
Cook Time:
30-40 minutes
Ingredients
5 1/2 cup whole wheat flour
2 pkgs active dry yeast
1 tablespoon salt
1/4 cup honey
3 tablespoons butter or margarine (softened) 2 1/2 cups hot water
Directions
Spoon flour into measuring cup and level off. Combine 2 cups flour undissolved yeast and salt into large bowl. Stir well to blend. Add honey and butter. Add hot water. Beat with electric mixer at medium speed for 2 minutes. Add 1 cup flour. Beat with electric mixer at high speed for 2 minutes until thick and elastic. Gradually stir in just enough of remaining flour with wooden spoon to make a soft dough which leaves the side of the bowl. Turn out on floured board. Knead 5-8 minutes. Dough will be slightly sticky. Cover with plastic wrap, then towel. Let rest 20 minutes. Punch down divide dough in half shape into loaves and place in greased pans. Brush dough lightly with oil. Cover pans loosely with plastic wrap. Let stand in warm draft-free place for 20 minutes. Refrigetrate 2-24 hours. Remove from refrigerator, uncover, let stand 20 minutes. Bake 400 degress for 30-40 minutes.
Categories: Breads
Submitted by: rosemary on July 6, 2010