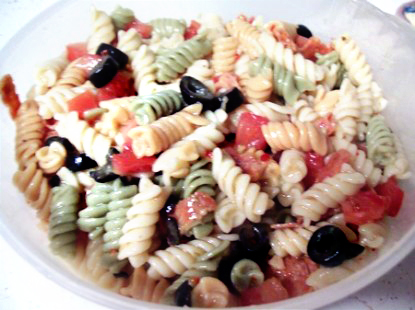 Difficulty: Easy
Servings: 6 to 8
Cook Time:
Approx. 15 mins.
Ingredients
1 box (12 oz.) Italiano Tri-Color Rotini pasta, cooked and drained, rinsed with cold water
2 cups cherry or grape tomatoes, halved
1 can (6 oz.) pitted black olives, drained
1/2 cup grated Parmesan cheese
1/4 cup Italian Dressing (I used 1/2 cup — might need more upon serving)
Can also add:
2 cups fresh broccoli (bite-sized pieces)
1-1/2 cup cauliflower (bite-sized pieces)
Pepperoni
Directions
While pasta is cooking, cut tomatoes in half. Drain olives and slice. Mix in a large bowl with rinsed and drained Rotini pasta. Add salad dressing and toss. Cover and refrigerate for about 2 hours or until chilled. Sprinkle on Parmesan cheese and serve.
For a main meal, add imitation crab meat or diced ham (I added diced pepperoni).
Categories: Main Dish, Pasta, Pasta, Pasta Salads, Pork, Salads, Seafood, Side Dishes
Submitted by: nataliecyphers on May 31, 2010