I used to spend a nice little chunk of change on a brand name of salsa that we particularly loved. As a canner, I knew that I could can my own salsa, but every attempt, every recipe, just fell far short of the flavor we loved and expected.
Four or five years ago I ran across a recipe that I had found online in 2003, printed, and had shoved in a drawer. There was no 'author' mentioned for this recipe–the title was "Wonderful Salsa". I found it, made it, canned it. One taste led to a pint being devoured between two of us in about 5 minutes. I knew I had hit the motherlode! I shared my joy on Canning2 and within a short time there was practically a fan club for this recipe. It's become "Dede's Wonderful Salsa" on Canning2 but it's not really 'mine'–I guess I am just the fan club President! I have not purchased even one jar of commercial salsa since I canned that first batch–it's THAT good. You can use fresh tomatoes (scald, peel and chop). You can use peppers with a heat level that will take the paint off your car–just stay within the measured amount of peppers listed in the recipe. Make it as written or make it your own!
How to make Wonderful Salsa:
8 cups tomatoes–you can use three 28/29 oz. cans tomatoes, well drained (I buy petite diced when I can find them on sale)
2 ½ cups diced onion
1 ½ cup diced green bell pepper
1 cup diced hot peppers (I usually use all banana peppers–you can use the heat level you prefer)
6 cloves garlic, minced
2 tsp. cumin
2 tsp. black pepper
1 Tbsp. canning salt
1/3 cup sugar
1/3 cup white vinegar
29 oz. can of tomato puree
1 ½ cups tomato sauce
1/4 cup bottled lemon juice
Drain the tomatoes well.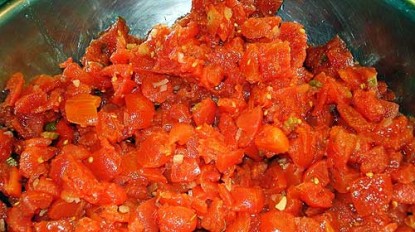 Add the onions and peppers.

Add the seasonings.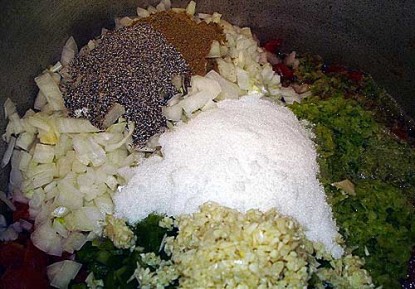 Mix everything together.

Bring slowly to a boil and continue to boil gently for ten minutes (or less–be sure the onions and peppers remain somewhat crisp).
NOTE: At this point you could cool and refrigerate to use without canning if desired.
One person at my house prefers a much smoother salsa, so sometimes I pulse some of the mix in a food processor a few times and can that separately.

Pour into hot jars, cap with hot rings and lids. Process in boiling water bath for 15 minutes.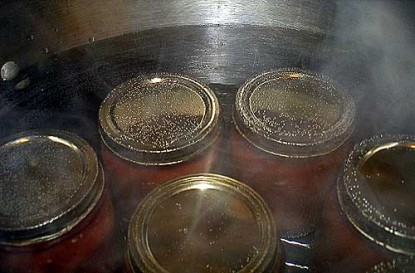 Yield: 7 to 8 pints.
Enjoy!

Note: Get the printable recipe here!
You can also find Dede at Yahoo's Canning2.

Interested in contributing a guest post to the Farm Bell blog? Read information here for Farm Bell blog submissions.

Want to subscribe to the Farm Bell blog? Go here.