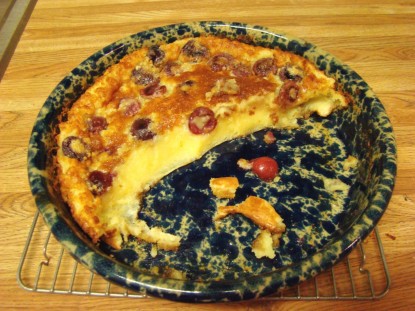 Difficulty: Easy
Servings: 6
Prep Time:
20 min
Cook Time:
40 minutes
Ingredients
1 cup pitted fresh cherries
2/3 c milk
1 cup less 2 tablespoons cream
1 tsp vanilla
1 c sugar
1 c flour
4 eggs
1/4 – 1/2 c melted butter. (I used 1/2 c and will use a little less next time)
Powdered sugar (optional)
Directions
Butter a deep pie plate, sprinkle brown sugar on butter. In a large bowl, combine milk, cream, vanilla, sugar, flour, eggs and melted butter. Whisk together until well blended. Pour into pie plate and drop cherries on the top of batter, spacing as evenly as possible.
Bake 40 minutes in a 325 degree oven. Remove and dust with powdered sugar if desired.
Categories: Desserts, Other Desserts
Submitted by: carollangille on June 15, 2010